Costa Coffee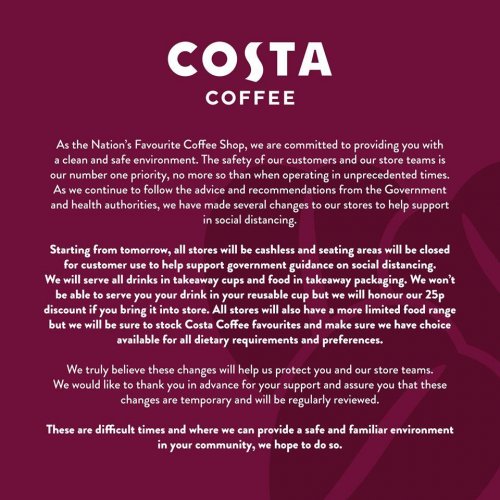 All stores will be cashless and will only accept card payments.
All seating areas will be closed for customer use in stores to support government guidance on social distancing, however, their toilets will continue to be open for customers.
They will serve all drinks in takeaway cups and food in takeaway packaging, 'dine-in' crockery will not be available.
They won't be able to serve you your drink in a reusable cup in our stores but we will honour our 25p discount if you bring in your own cup.
All stores will temporarily remove newspapers as they cannot clean them in between each customer handling them.
All stores will also have a more limited food range but they will be sure to stock Costa Coffee favourites and make sure they have choice available for all dietary requirements and preferences.
All Drive-Thru lanes will remain open as usual for those customers in vehicles but internal seating areas will be closed.
Their Costa Express machines continue to operate up and down the country as normal for those customers on-the-go. They continue to work closely with our partners to ensure they maintain the highest standard of cleaning and hygiene.